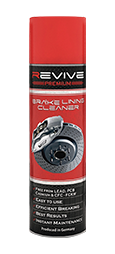 Revive Brake Cleaner
DownLoad PDF:
AVAILABLE IN CONTENTS: 500 ml
Description
An excellent brake cleaner originated from Germany that not only removes oil & grease but also leaves no residue. Highly efficient brake cleaner, it is free from Lead, PCB, cadmium & CFC-FCKW. Revive Brake Cleaner is used for instance maintenance. Optimum coefficient of friction in disc & drum brakes and is harmless to ozone (without CFC).
Application
Spray on the dirty parts and wait until it evaporates, repeat the process if necessary.