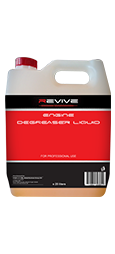 Revive Engine De-Greaser
DownLoad PDF:
AVAILABLE IN CONTENTS: 25 Liters
Description
Revive Engine De-Greaser has been specially formulated for cleaning the engine and the engine compartment. The product dissolves oil and grease residues easily as it does tar, brake abrasion and other contaminants.
Application
For Cleaning engine and engine compartments.