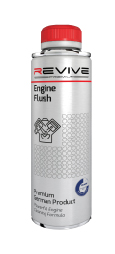 Revive Engine Flush
DownLoad PDF:
AVAILABLE IN CONTENTS: 300 ml
Description
A highly efficient engine cleaner produced in Germany that not only cleans inside the engine but also has optimum reliability. Excellent engine cleaner. It has optimum reliability. Highly recommended for engines. Boost power and reduces oil and fuel consumption by removing harmful varnish deposits. Extended life spam of of the engine.
Application
Add to engine before oil change, after normal operating temperature, run engine in ideal condition for 5-10 minutes. Drain oil, flush contamination, change oil and filter. It can be added to all types of engines.