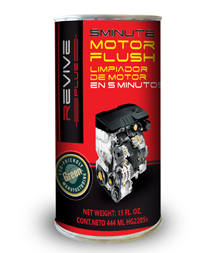 Revive Plus- 5 Minutes Flush
DownLoad PDF:
AVAILABLE IN CONTENTS: 440 ml
Description
Revive Plus Engine Flush is Recommended for engines with less than 6 cylinders and oil capacity of 5 quarts or less. Contains special additives that envelop and remove particles, sludge, carbon, varnish and other pollutants during the oil change Cleans the engine so that new oil can adhere to metal surfaces providing proper lubrication Compatible with all types of oil including synthetic and diesel oil
Application
Add to engine before oil change, after normal operating temperature, run engine in ideal condition for 5-10 minutes. Drain oil, flush contamination, change oil and filter. It can be added to all types of engines.