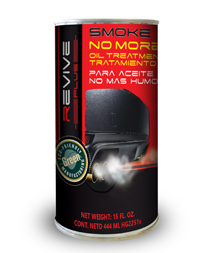 Revive Plus- Smoke No More
DownLoad PDF:
AVAILABLE IN CONTENTS: 440 ml
Description
Smoke No More Oil Treatment is a highly concentrated oil stabilizer for high mileage engines. Smoke No More Oil Treatment reduces engine noise, increases compression, maintains oil viscosity and does not smoke when burned. It is compatible with all engine oils including synthetic and diesel.
Application
Treat Rate: One can treats up to 5 quarts of oil.