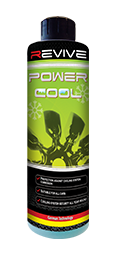 Revive Power Cool
DownLoad PDF:
AVAILABLE IN CONTENTS: 250 ml
Description
Highly active ingredients offer security all year round. Reliable protection against corrosion for all metal and alloy in the cooling system of motors. It enhances the cooling system. Less heat resulting from the combustion
Application
This product can be filled into all models of the leading car manufacturers and is applicable to aluminum engines. Can be mixed with other antifreeze.